Home from The Range
- Part 1/IBA Madness
Ten days on the road ended for me on Tuesday, June 21st '05, when I completed my trip's final leg from Athens, Georgia to home. The ride started at Smith Mountain Lake, Virginia and was to take me to Nashville by way of Montana. Ten days out, nine days of riding, 5129 miles covered, 14 states visited (second passes on at least 4 of those), and all kinds of weather. I rode less than 1750 of those miles on interstate highway. Most of that superslab was ridden on day one when I hit the road at 4:30 in the morning and stopped at 10:30 that evening in Mound City, Missouri - 1081 miles later.

My Suzuki DL650 V-Strom Packed and Ready: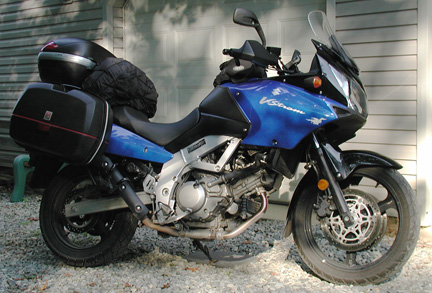 Back in April, during a three day moto-camping trip, friend Chris Hall and I were discussing my upcoming trip to Montana. Chris, who has several Iron Butt Association rides to his credit, suggested I consider doing either a SaddleSore 1000 or a BunBurner 1500 during the trek. I knew a little about the IBA but the thought of attempting such a ride held little initial interest for me. Chris didn't push the idea any further but the seeds had been sown.

Plotting my daily routes for the trip it became obvious that I needed to cover some serious miles to leave on Sunday and be in Livingston, Montana in time for a business engagement on Wednesday. The seed germinates as attempting an Iron Butt ride looks like it will create the added incentive needed to make my destination on time. Further discussions with Chris and Jim Moss at a Twin Valley Riders gathering cemented the decision. I'd attempt a SaddleSore 1000 on day one and finish up day two by completing a BunBurner 1500. These rides require 1000 miles to be ridden in 24 hours and 1500 miles within 36 hours respectively.

Sunday, June 12 started out clear but weather reports indicated I might see some rain. I intended to ride far enough to qualify for an IBA SaddleSore 1000 and then push on to Omaha, Nebraska to camp Sunday evening. On Monday I was planning on reaching Wind Cave National Park in South Dakota after chewing up enough road to also qualify for an IBA BunBurner 1500. Fellow TVR'er and longtime IBA member Jim Moss met me at the Burnt Chimney Shell station to sign the IBA witness form at the start of my ride. Jim's willingness to meet me at 4:30 in the morning to do this was both humbling and inspiring! My Day One route had me taking I-81 to 460 into West Virginia and I-77 then I-64 into Kentucky, Indiana and Illinois to St. Louis and I-70 and finally I-29 from Kansas City up to Omaha, Nebraska.

I hit some brief showers just after entering Kentucky and then more light rain between Lexington and Louisville. I was in and out of my rain suit twice as the day heated up. Things settled down from there until I got onto I-70 at St. Louis where I encountered constant rain of varying intensity all the way into Kansas City. About 100 miles east of Kansas City the rain became so heavy that cars were pulling over to the side and I rode at 12mph in first gear for 20 minutes. Shortly after breaking out of that downpour, I crested a hill and saw the black swirling clouds of a storm of biblical proportions about to vent it's fury on the land. I bailed off the interstate at Odessa, Missouri and spent an hour parked underneath the covered walkway of a closed shopping mall as the storm turned day into night, howling winds blew rain sideways, lightning flashed and I listened to tornado warning sirens wailing.

Intending on camping Sunday night on the western edge of Omaha, I lost so much time due to bad weather that I finally stopped short of that goal and found a motel room in Mound City, MO. It was 10:30 pm, I had covered 1081 miles in 18 hours and managed to go the necessary distance and get the documentation needed to qualify for a SaddleSore 1000. The clerk at the convenience store where I got my gas receipt and the Super 8 Motel receptionist each graciously signed my IBA End of Ride Witness form for the SS1K.

Approaching Monday's Front: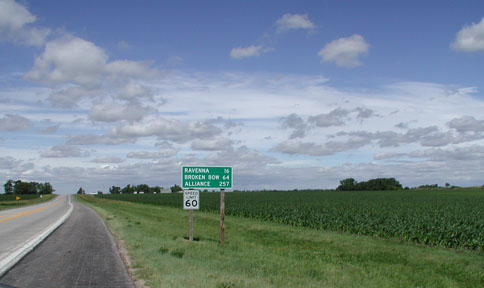 The next morning I watched the Weather Channel at 5:30 while preparing to leave for Day Two's ride. It was apparent that if I didn't change my planned route to Hot Springs, South Dakota I was in for even nastier weather than the previous day. I had intended to traverse Nebraska from the southeast corner to the northwest corner in almost a straight line but radar showed very bad storms and strong winds up north. I made route adjustments and decided to go due west and stay lower across the first third of the state before angling up towards the northwest corner hoping to avoid some of the bad stuff. This kept me dry until around noon. However, the winds were still strong enough at the start that my normal fuel mileage of 50+mpg dropped to 37.7mpg for the first 175 mile leg.

Because of the continuing bad weather I wrote off the BunBurner 1500 as a possibility. So at 9:30 I stopped for a leisurely breakfast at a Perkins Restaurant in Grand Island and then headed off for Alliance, NE and the final push north to Hot Springs, SD and Wind Cave National Park. I'd still make my intended destination for the evening but it was looking like a lot more hours in the saddle than originally planned. A half hour later I entered the storm front pictured above and the worst riding weather I had ever encountered.

The constant, strong gusting winds increased in intensity and were now accompanied by heavy rain squalls. I rode almost 250 miles to Alliance in what seemed like gale force winds. At times the bike felt like it was getting airborne as gusts hammered me while I stayed leaned over at almost a 45 degree angle against the winds, countersteering to keep a straight track. While gassing up in Thedford, Nebraska the driver of an SUV I had been following had all kinds of questions about my raingear and mental state. Evidently he couldn't believe I was on a motorcycle in a storm like this. I kept thinking about pulling off but since I was making headway and didn't believe it could get much worse I continued on. I was wrong!

The winds continued to intensify, the rain fell even harder and then I came upon a 25 mile stretch of road that had been milled for repaving. But as the distance to Alliance steadily decreased I realized that I could make it there with more than 1500 miles on the odometer and still come in under the 36 hour time limit for BunBurner 1500 certification. At this point I also began to question my own sanity but I pushed as hard as I could. The BunBurner was back on!

The starting time on Sunday's gas receipt in Virginia was 4:37am. The end of ride gas pump receipt I got in Alliance, Nebraska reads 14:27 mountain time. I squeezed in with ten minutes to spare! I had my End of Ride Witness form signed by the clerk at the Gas N' Shop and prepared for the final 100 mile push to Hot Springs. The sun was starting to peek through the clouds which renewed my vigor. But the winds grew even worse.

The stretch north of Chadron on hwy. 385 was especially brutal. Barely able to maintain 55mph on this last section of road that had a posted speed limit of 65mph, I was getting passed by semi's and my arms felt like lead from hundreds of miles of non-stop countersteering! Day Two ended in Hot Springs, South Dakota with 597 more miles on the bike in another unplanned motel room as the area recovered from record rainfalls.

Day Three was to bring Buffalo, Custer State Park, Devils Tower and the Big Horn Mountains of Wyoming. For further information about the Iron Butt Association go to this link:
http://www.ironbutt.com
Hot Springs, SD at sundown looking towards the front I had passed through: