Part 5/Not in Kansas Anymore


In Salina, my alarm woke me at 5:30 on Saturday morning. I had planned to visit my son in Nashville on Monday but at this point I was so focused on getting out of the plains that I thought I could make Nashville by nightfall. That would give me a day of rest and allow me to spend Father's Day with my eldest son.

Originally I was to going to camp Sunday evening east of Springfield, Missouri after passing through Kansas but a new plan started to emerge. My secondary road tour of the country had me briefly dropping south on I-135 to just beyond Hutchinson and then doing all secondaries through the rest of Kansas and across Missouri to Paducah, Kentucky. From Paducah it was to be less than 150 miles on I-24 into Nashville. Couldn't be more than 850 miles.

I was on the bike by 6:30 and at my son's in Nashville by 8:00 that evening. No pictures taken - I was too focused on the ride. Nothing notable to write about and it turned out to only be 808 miles - good weather, a piece of cake! But I had compressed five days of riding into two. Sunday I changed the oil in the Strom and then just kicked back for a day enjoying some family time. Since I was ahead of schedule I decided to get back to Virginia by way of Athens, Georgia. This would allow me a visit with my daughter, son-in-law and the grand-kiddie and hopefully get me into some fun roads.

Tennessee Route 30 heading east from McMinnville is a short fun stretch of twisties. Just inside Georgia a man driving a Ferrari asked me about my Givi luggage. He was interested in getting some for his Ducati ST4. Never did figure out why someone who owns a Ducati would be out driving a Ferrari instead. Georgia Route 52 from Dalton heading to Gainsville has just been repaved and is great fun!

The trip slowly winds down and it's 365 miles to Athens, good family times and then another 409 miles from there to home base on Tuesday. The Second Law of Thermodynamics states that all things tend towards entropy. This trip and story are just like that. Started out with a bang and then slowly winds down to a mediocre conclusion. But time with family is still priceless.


Bike Odo 5128.9/GPS 4985.27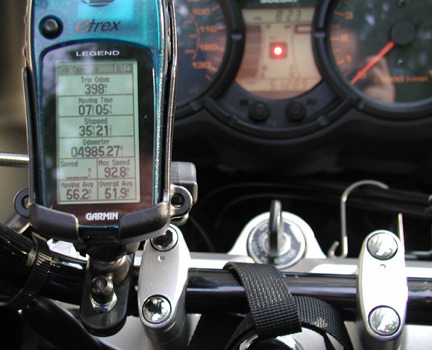 My GPS numbers for the trip indicated a 2.8% variance from the Strom's odometer. The truth is probably somewhere in the middle but it's not worth trying to really figure it out. All the mileage totals in my story are from the bike's odo because the numbers are bigger and more impressive.

In ten days I faced numerous personal challenges, met some great people, and saw a lot of this magnificent country. Kansas won the award for "Greatest Diversity of Road Kill per Mile", Missouri for the worst roads (I-70 between St. Louis and Kansas City and Route 54 from Fort Scott to Collins), Wyoming and Montana tied for most spectacular but Wyoming won for cheapest gas ($1.94 in Casper). Virginia still wins for the best riding per square mile whether it's paved twisties or dirt. But Georgia can't be far behind. I don't think I ever met one decreasing radius turn while I was out west. The grand, sweeping constant radius curves definitely brought a smile to my face. But truth be told, riding solo a few thousand miles from home on a fully loaded machine I didn't mind the lack of pucker factor inherent in these type of twisties. I'm sure the other type are out there - I just didn't come across them.

I started the trip with 10755 on the odometer and at the end the Wee-Strom had 15981 on it. The bike ran flawlessly, went everywhere I wanted and expected it to and was the center off attention wherever I stopped. Pretty amazing. The cost to fun ratio for the V-Strom is phenomenal!


Trip's End at Smith Mountain Lake, VA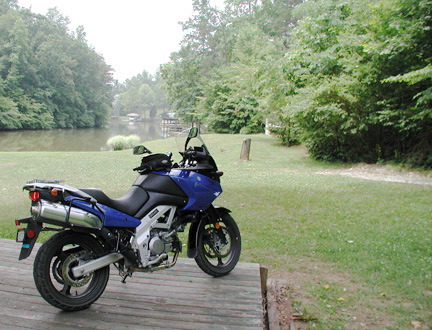 A Few General V-Strom Observations

My bike typically averages 54mpg on the highway. During one 175 mile leg in Nebraska I saw a low of 37.7mpg due to extreme crosswinds coupled with 75/80 mph riding. Most of the trip was spent in strong winds and overall I averaged only about 47mpg because of them. This caught me by surprise and impacted my fuel budget and planned schedule for stops. More money and time spent due to increased fuel needs.

The Strom gets generally poor grades for the noise and buffeting creating by the stock windscreen. I have minimal problems with this issue and it's probably due to a combination of my size, helmet, mirrors and the fact that I have raised the forks 10mm. I am 6'1" with a 33" inseam, use Arai Quantum helmets and have replaced the stock mirrors with Emgo's. Riding locally I use the lowest of four possible positions. During this trip I used the second from the bottom position to minimize bug hits to my helmet's faceshield.

Lubing the chain is a PIA when you're on the road and it's windy. I should have installed a chain oiler. But, I still have the stock chain and it required no adjustments during the trip. Bel-Ray Super Clean chain lube is super messy. It doesn't sling once it sets up but it forms globs around the can and spray nozzle and turns everything white. I disliked it more each time I used it. Motul "Chain Lube Road" is clean, comes with two spray nozzles, set up quickly, doesn't sling and is my new lube of choice. I had been using Liquid Performance Chain Lube since day one but ran out just before the trip and was not able to find it anywhere.

The stock seat fits my butt well but by the end of the ride I was getting saddlesore. A gel seat might be on my list of purchases now. My "cramp buster" was indispensable
(
www.crampbuster.com
) but in retrospect I should have taken advantage of Roy B's wonderful documentation and installed cruise control. I spent too much time on mind-numbingly straight, windy sections of road in the nations mid-section fighting to maintain constant speed. For Roy's photo instructions start here and toggle through the pix.
RoyB's Cruise Control Installation


The Givi V46 topcase and E36 side cases are great and they bounce off boulders! For use as moto rainwear FroggToggs rock!! They pack small, are very durable, absolutely waterproof and ventilate well.

I took too many "just in case" tools with me but had the space and they brought piece of mind. Motorcycle Touring Service membership is a worthwhile investment. I didn't need a tow or roadside assistance but their current two year membership fee is only $40.00. It's worth it for the extra sense of security MTS gives you on a long solo trip. And if you sign up because of this post mention my name when you do.
www.mts-towing.com


Aside from chain maintenance and bug removal the only other thing the bike required was some fresh oil. I did an oil/filter change before the start of the trip but after pushing the dino for 4,300 miles I finally put in new oil in Nashville. I didn't feel good about going that far but I had no options and experienced no ill effects. The bike has a slightly deeper, throatier sound after this trip. Since it was still under warranty, I took the bike into my local dealer for service after I arrived back home. With 16,000 on the odometer the valves measured within spec and required no adjustment.

As of March 29, 2009 my 2004 V-Strom has amassed 57,750 miles. It is still running strong. Quite a few sets of tires have been mounted on the rims over the past two years. Aside from a necessary valve adjustment at 33,551 miles the Strom has proven to be bulletproof.

For information about the Iron Butt Association:
http://www.ironbutt.com

For information about the Twin Valley Riders:
http://twinvalleyriders.com
For information on the Suzuki V-Strom:
http://rapidforum.com